7 Last-Minute Halloween Costume Ideas Using Boxes
Posted by Josh Barker on Tuesday, October 31, 2017 at 7:27 AM
By Josh Barker / October 31, 2017
Comment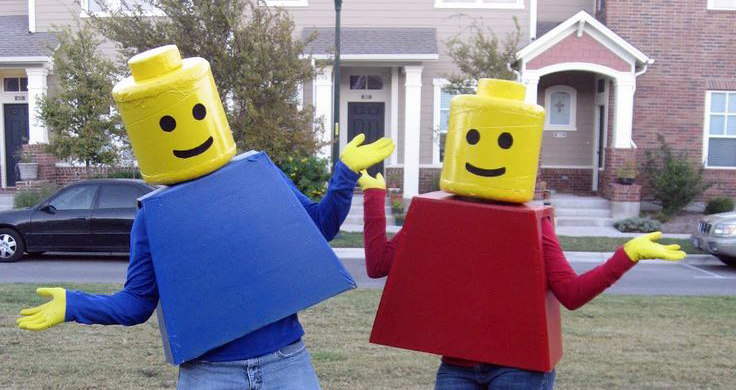 If you're in the middle of a move you probably don't have a lot of time to spend on an elaborate Halloween costume. Don't let that stop you from celebrating in style. Take advantage of something most people probably have a lot of – boxes! Here are suggestions for last minute-costumes ideas using boxes.
1. Voting booth
Some red, white and blue paint and you're set to celebrate Halloween – and democracy. Add an Uncle Sam stars-and-stripes top hat and you're good to go.
2. A perfect pair
Black and white construction paper or paint can turn a couple of boxes into a pair of dice, ideal for couples or siblings heading out for Halloween.
3. Get corny
Decorate a box as an old-school, red-and-white striped popcorn container and attach crumpled yellow tissue paper as the popcorn. Don't forget to make a corny crown.
4. Hit the block(s)
Dressing as a family of Legos is easy using rectangular moving boxes, paint and paper cups for the knobs that stick out. Top it off with a small, matching box on your head.
5. Robot
Silver spray paint can turn a cardboard box into a shiny metallic torso. Visit Home Depot for the silver accordion tubes that vent the air from clothes dryers to cover your arms and legs (or add extra appendages). Accessorize with tin foil.
6. Best vintage
Enlarge a copy of your favorite boxed wine label and slap it on a moving box. You can even add a spout that dispenses real wine.
7. Real estate agent
Cut up a box to make a collection of "SOLD" signs, make sure your phone headset is securely fastened to respond to clients around the clock and you're ready to head out as a RE/MAX agent!
If you're looking for a real real estate agent to help you buy or sell your home, it's easy to find one. Start here.