April 2015 Market Update
Posted by Josh Barker on Wednesday, April 8, 2015 at 10:13 AM
By Josh Barker / April 8, 2015
Comment
From the Desk of Josh Barker
The Redding Area housing market is the strongest it has been in years. Pending home sales in March exceeded 300 and is up over 40% compared to last year. Many sellers are experiencing much shorter marketing times and many home sellers are averaging 90 days from list date to move date. Interest rates continue to remain at or below 4% and new construction in the Redding area is on track to exceed 200 new home starts by the end of this year.
Your realtor, Josh Barker
If you have any questions regarding the value of your home, simply click here for an instant home valuation.
Click Here to watch Josh's video blog for the month of April.
---
Pending Sales Surge: Great Sign for the Redding Area Housing Market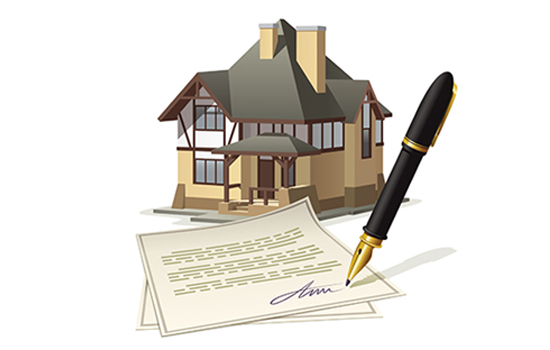 The Redding Area housing market experienced 332 pending home sales in March, a 40% growth in pending homes sales compared to 1 year ago.
The most recent Pending Homes Sales Index from the National Association of Realtors revealed that homes going into contract in February and March increased to their highest level since June 2013.
Here is a graph showing the Pending Sales numbers for the U.S.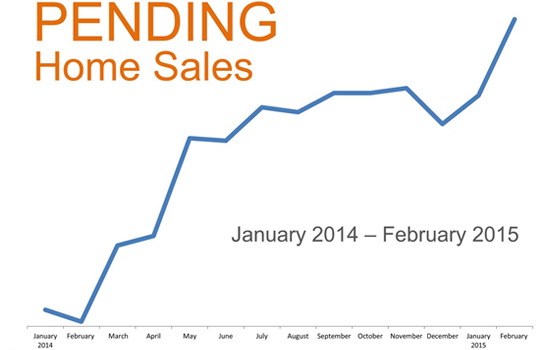 Here is a chart showing the Pending Sales increases by region: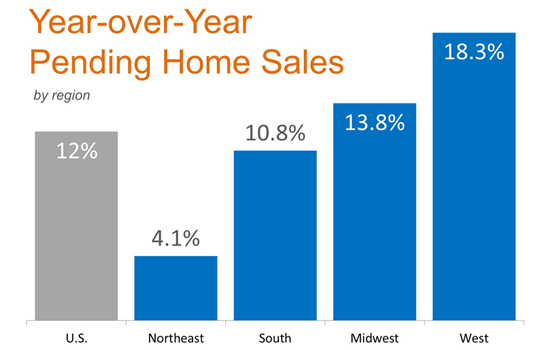 Bottom Line
In an article from Investors' Business Daily, Lawrence Yun, Chief Economist at the National Association of Realtors, explained what these numbers will mean to the overall market:
"It looks like the buyers want to come out to the market and they are eager to find the right home and make an offer. Therefore, I expect the second quarter of this year to be easily ahead of last year in terms of sales activity. Pending contracts are implying that the closing activity in coming months will be quite solid."
---
Why You Should Sell Now!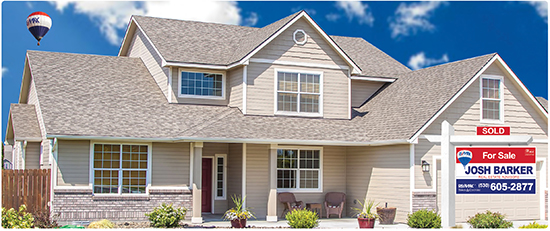 1. Demand is high for home purchasing in Shasta County
Foot traffic represents the number of people out actually physically looking at homes right now. The latest foot traffic numbers show that there are more prospective purchasers currently looking at homes than at any other time in the last 12 months, which includes last spring's buyers' market. These buyers are ready, willing, and able to purchase and are in the market right now! Take advantage of the buyer activity currently in the market.
2. There Is Less Competition Now
Housing supply just dropped to 4.6 months, which is under the 5-6 months' supply that is needed for a normal housing market. This means, in many areas, there are not enough homes for sale to satisfy the number of buyers in that market. This is good news for home prices. However, additional inventory is about to come to the market. There is a pent-up desire for many homeowners to move as they were unable to sell over the last few years because of a negative equity situation. Homeowners are now seeing a return to positive equity as real estate values have increased over the last two years. Many of these homes will be coming to the market in the near future. New construction in the Redding Area is likely to reach 200 new home starts by the end of the year. The choices buyers have will continue to increase. Don't wait until all this other inventory of homes comes to the market before you sell.
3. The Process Will Be Quicker
One of the biggest challenges of the housing market in recent times has been the length of time it takes from contract to closing. Banks are requiring more and more paperwork before approving a mortgage. As the market heats up, banks will be inundated with loan inquiries, causing closing timelines to lengthen. Selling now will make the process quicker & simpler.
4. There Will Never Be a Better Time to Move-Up
If you are moving up to a larger, more expensive home, consider doing it now. Prices are projected to appreciate nationally by over 19.3% from now to 2019. If you are moving to a higher-priced home, it will wind up costing you more in raw dollars (both in down payment and mortgage payment) if you wait. You can also lock-in your 30-year housing expense with an interest rate under 4% right now. Rates are projected to increase by about three-quarters of a percent by the end of 2015.
5. It's Time to Move On with Your Life
Look at the reason you decided to sell in the first place and determine whether it is worth waiting. Perhaps the time has come for you and your family to move on and start living the life you desire.