Home Appreciation Expectations
Posted by Josh Barker on Tuesday, December 22, 2015 at 5:18 PM
By Josh Barker / December 22, 2015
Comment
We've been hearing a lot of buzz about home value predictions. Today, many real estate conversations center on housing prices and where they may be headed.
Every quarter, Pulsenomics surveys a nationwide panel of over one hundred economists, real estate experts and investment & market strategists about where they believe prices are headed over the next five years. They then average the projections of all 100+ experts into a single number.
The results of their latest survey:
Home values will appreciate by 3.9% by the end of 2015, 3.4% in 2016 and 3.1% in each of the following four years (as shown below). That means the average annual appreciation will be 3.2% over the next 5 years. Our opinion for the Shasta County market appreciation is very similar to the chart below.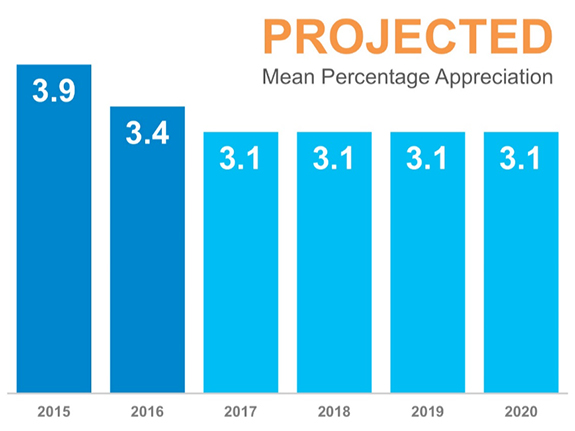 The prediction for cumulative appreciation rose from 18.1% to 21.6% by 2020. Even the experts making up the most bearish quartile of the survey still are projecting a cumulative appreciation of 13.8%. This is a very good indication of a healthy real estate market during the next few years. If you are considering buying or selling, you don't have to wait until spring or summer. Give me a call today if you have any questions about the process.