July 2015 Market Update
Posted by Josh Barker on Thursday, July 16, 2015 at 12:12 PM
By Josh Barker / July 16, 2015
Comment
From the Desk of Josh Barker
Click Here to watch Josh's video blog for the month of July
Home Inventory
The inventory of homes for sale in Shasta County is currently hovering around 1,100, up 5% over last year; the average sales price in the market is currently $258,000, up 6%. The good news is that new home construction has picked up as well. I expect new housing starts for the city to reach nearly 200 in 2015. This is welcomed news for many home buyers that are craving the latest in home technology, innovation and design.
(Click here to view all the homes for sale on the MLS)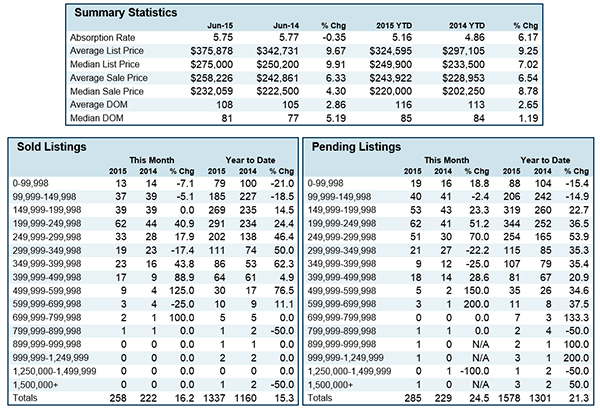 Interest Rates In the Redding Area
Current interest rates are still averaging around 4.125% and are up slightly compared to 3 months ago. The recent change in rates is largely due to the additional administrative costs that are being incurred due to the governments increased involvement in the mortgage market. Rates are expected to climb higher in coming months. The likely outcome could be a ½ % increase by the end of the year.
Home Loans in Shasta County
The creative financing that drove the Redding housing market up to crazy levels in the mid 2000's may not be back, but low money down loans are. Home buyer financing options are as low as zero money down, 3% down, and 3.5% down when purchasing. In addition, many home buyers are requesting sellers to pay for their closing costs. The access to low money down loans has contributed to both the increase in homes sales and increase in home values. It is simply an example of supply and demand.
Josh's Home Price Expectations
Let's first review what the Shasta County Housing Market has already experienced…
Homes were understandably undervalued during the heart of the foreclosure crises in 2011 and 2012 and were constantly wreaking havoc of the housing market.
As distressed properties sales declined by more than 75%, the housing market had room to breathe and homeowners (not banks) took control of the housing market.
Interest rates in recent years have pushed to the lowest levels in history and are still at historic lows. They are inching up (a little) but have already played a major role in home affordability.
New home construction starts in Shasta County have been very low and as a result have had very little impact on the overall supply of homes for sale.
The return of low down payment loan options has increased the demand for homes and has contributed to the increase in home values in the Redding area.
The bottom line…The factors listed above have already had an impact in Shasta County and home values in the Redding Area have increased nearly 30% since the bottom of the market in 2012. It is unlikely that the housing market will appreciate at the same rate going forward. The home price correction has taken place and I expect to see home prices appreciation slow to more normal levels going forward.
(click here and review your home value instantly)