March 2015 Market Update
Posted by Josh Barker on Tuesday, March 3, 2015 at 6:30 PM
By Josh Barker / March 3, 2015
Comment
From the Desk of Josh Barker
It is amazing to see how much the real estate market has recovered here in Shasta County. The month of February proved to be an extremely strong month for pending homes sales with nearly 300 homes pended. With the strong housing market, I fully expected that there will be more homes coming on the market this spring than at any other time in the previous 3 years. There is pent up demand to sell, and with the low interest rate environment, buyers are excited to buy. New construction in the Redding area is also picking up and offering the latest in design and energy efficiency. If you have questions regarding buying a home or selling a home feel free to email me at [email protected] or call 530-222-3800.
If you have any questions regarding the value of your home, simply click here for an instant home valuation.
If you would like to view Shasta County's foreclosure market, simply click here and start browsing.
Click Here to watch Josh's video blog for the month of March.
---
New Construction in Shasta County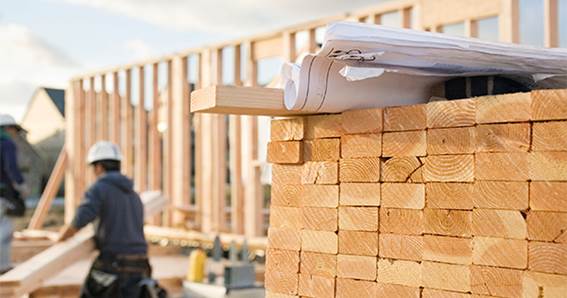 For the last several years, home sellers in Shasta County had to compete with huge inventories of distressed properties (foreclosures and short sales). The great news is that the supply of these properties is falling like a rock in the vast majority of housing markets, including Shasta County (only 11% of homes sold in January). Many homeowners are now thinking of selling as the impact of this substantially discounted competition has disappeared.
However, every seller of an existing residential property must realize that there is a new form of competition in the market: newly constructed homes. According to the National Association of Realtors' Profile of Home Buyers & Sellers, new home sales accounted for 16% of all homes sold in 2014. The graph below shows the top 5 reasons that a buyer would choose new construction over an existing home.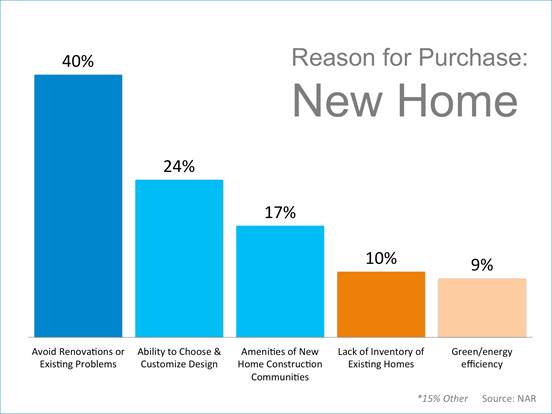 The top three should not come as a surprise. With a new home comes the ability to customize the design of the home and the ability to avoid having to renovate or deal with existing problems.
The 10% of respondents who cited "Lack of Inventory of Existing Homes" could very well increase in 2015. Existing home inventory for sale currently sits at a 4.7 months supply, well below the six-months needed to be at a historically normal market.
Bottom Line
With a steady buyer demand currently in the market, if you are thinking of selling, perhaps you should do it now to avoid additional competition coming to the market.
---
What is going to happen to Interest Rates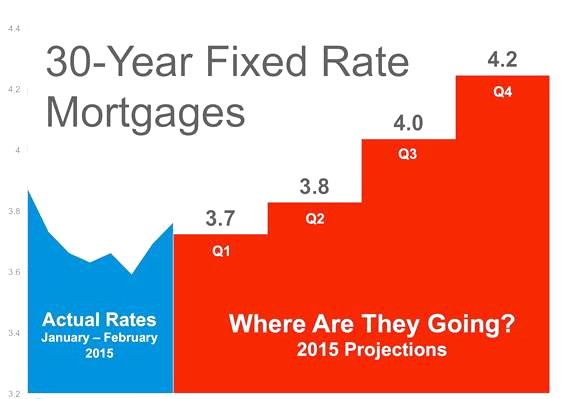 The interest rate you pay on your home mortgage has a direct impact on your monthly payment. The higher the rate, the greater the payment will be. That is why it is important to look at where rates are headed when deciding to buy now or wait until next year.
Above is a chart created using Freddie Mac's February 2015 U.S. Economic & Housing Marketing Outlook. As you can see, interest rates are projected to increase steadily over the course of 2015.
How Will This Impact Your Mortgage Payment?
Depending on the amount of the loan that you secure, a half of a percent (.5%) increase in interest rate can increase your monthly mortgage payment significantly.
Research released by Zillow touched on this point:
"As rates rise, new home buyers will confront higher financing costs and monthly mortgage payments. For many, this will mean tightening their budgets and sacrificing some luxuries they may take for granted today."
The experts predict that home prices will appreciate by 4.4% over the course of 2015. If both predictions become reality, families would wind up paying considerably more for their home.
Bottom Line

Even a small increase in the interest rate can impact your family's wealth. Meet with a local real estate professional to evaluate your ability to purchase your dream home.