Shasta County Market Update - February 2020
Posted by Josh Barker on Monday, February 3, 2020 at 12:30 PM
By Josh Barker / February 3, 2020
Comment
Click Here to watch Josh's video blog for the month of February.
---
From the Desk Of Josh Barker @ RE/MAX
Real Estate in 2020 is off to a strong start. Low interest rates, combined with a strong economy, are contributing to healthy buyer demand. This month we will quickly review some of the hottest topics trending now. As always, if you have any additional questions feel free to contact me at the office 530-222-3800 or feel free to respond to this email. Have a great February!
Home Inventory
The number of housing units currently for sale is averaging 916. This is down from 1,019 in the same period last year. We expect the inventory of homes for sale to climb as we transition to spring. For those that plan to sell this spring, we believe the sooner the better, as there will be less competition.
Home Sales
The number of housing units sold in January finished at 232. This is down from 260 in the same period last year. The average sales price in January was also down finishing at $285,000. This is down from $292,000 in the same period one year ago. The largest contributing factor was the lack of inventory in the below $250,000 price range.
New Construction
New construction is on the rise in Shasta County and many of these new homes will be priced between the $350,000-$500,000 price range. The absence of new construction in $250,000 and below price range means we will continue to experience low inventories and shorter market times for these types of properties.
Buyer Demand
The amount of "online search activity" currently suggests that buyer demand will be very strong in the first quarter of this year. Typically, our local market experiences an increase in buyer demand in the spring and peaks in mid summer. Current data suggests that the selling season may start a little earlier in 2020. Lower than anticipated interest rates, combined with a strong economy and housing market is driving buyer demand.
Rental Market
The rental market in Shasta County has continued to remain strong. The vacancy rate is low and rents are climbing. There are multiple high density developments coming to market this year but will still fall short of the numbers necessary to keep rents in check.
Interest Rates
Continued lower than anticipated interest rates are driving the housing market. However, these low rates are serving as camouflage for housing affordability. If rates go up as little as 1%, the purchasing power for the average home buyer diminishes by nearly 10%. Fortunately, we do not expect to see major increases in interest rates in the near future.
Home Price Expectations
As more millennials participate in home ownership and take advantage of today's low interest rates, demand will continue to strip away at supply. Supply will be hit the hardest in the $275,000 and below price ranges. For this reason we expect the most appreciation in this price segment. New construction begins to pick up steam above $300,000 in Shasta County and for this reason appreciation is expected to be slower as the price of a home increases.
Learn more about Josh Barkers 5 proven steps to selling your home by visiting reddinghomes.com/selling-your-home/

Learn more about Josh Barker's proven ideal investment formula by visiting reddinghomes.com/buying-home/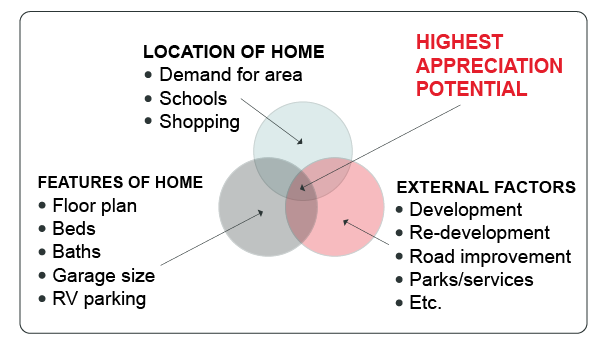 Check the average value for your home instantly by visiting reddinghomes.com/home-value