Shasta County Market Update - July 2021
Posted by Josh Barker on Thursday, July 1, 2021 at 12:20 PM
By Josh Barker / July 1, 2021
Comment
Click Here to watch Josh's video blog for the month of July.
From the Desk Of Josh Barker
First and foremost, I am excited to resume our monthly market update with all of you. A lot has changed in the past 12 months and real estate both locally and nationally has become one of the hottest topics being discussed at this time. In fact, Google has stated that one of the leading search terms that buyers are searching for is, "Are we in a housing bubble?". This month we will dive into this question and address some of the hottest topics trending now in the real estate market. As always, if you have any additional questions please feel free to contact me at the office at 530-222-3800.
MID YEAR REPORT FOR 2021
Home Inventory
The current low home inventory relative to demand has been the largest contributing factor to home price appreciation. Currently there are approximately 430 homes active for sale on the market, down approximately 40% compared to one year ago. The number of homes for sale is beginning to increase slightly due to lower health concerns combined with home price pressures.
Home Sales
Home sales have reached approximately 1,750 for the first half of the year, up nearly 30% compared to last year in the same period. Migration pattern shifts, combined with first time home buyers and incredibly low interest rates, have all contributed to the robust buyer demand.
New Construction
New home and multi family construction has taken hold in our local market. The combination of fire rebuilds, infill lot construction and larger scale developments have all contributed to the much needed housing supply. The future in this sector is promising and has even caught the eye of DR Horton, one of the country's largest home builders. The headwinds of high lumber costs and the lack of skilled labor will likely be some of the largest challenges for builders.
Interest Rates
Mortgage interest rates have served the housing market extremely well over the past 12 months with rates as low as low as the mid 2% range for a 30 year mortgage. Although rates are expected to remain fairly low, most experts predict we could see rates inch into the mid 3% range by the end of the year. Keep in mind that for every 1% the rate increases, purchasing power is affected by as much as 10%.
Loan Programs
Loan programs have expanded over the past 6 months. Nearly 100% financing has become available for many first time home buyers. This is made possible by using the FHA loan program combined with grants provided by the state of California. In addition, limited documentation loans have become available for buyers with large down payments and approved credit. Flexible loan programs foster additional home buyer participation, but can also raise concerns for many who lived through the housing crises of a decade ago. One big difference between today's loan programs and the programs of a decade ago is the absence of short term fixed loans and negative amortization products.
Eviction Moratorium
Due to the pandemic and tighter eviction restrictions imposed by the state of California prior to the pandemic, landlords have found it difficult to evict tenants. These restrictions have contributed to the overall low home inventory and continue to serve as a challenge for investors that desire to liquidate. In the coming months legislators will likely address the eviction moratorium issue and bring some closure to many whose plans have been on hold.
Foreclosure Moratorium
Fortunately many banks, with the help of the government, took a very proactive approach dealing with homeowners in distress due to the pandemic. Many of these homeowners were provided forbearance options that kept them in their homes. A portion of these homeowners have already transitioned out of the program and brought their mortgage current. Another portion transitioned out of the program by restructuring their loan with the intent to remain in the home. There continues to be a number of homeowners that are experiencing major financial difficulties. As the foreclosure moratorium begins to lift and the legal foreclosure process is permitted to resume we could expect to see these types of homes come to the market for sale.
Migration Patterns
A large contributing factor to the active local housing market has been the disruption in migration patterns. Many of the larger cities throughout the State of California and around the country experienced abnormal migrations shifts over the past year. These shifts have grown the populations of many smaller communities like Shasta County. The major disruptions due to the pandemic have likely peeked at this point and could potentially have an impact on local buyer demand in the coming year.
Pent Up Seller Demand
Over the past year many homeowners have put their plans on hold. The combination of health concerns, travel restrictions and a volatile housing market have all contributed to that decision. Now that many of these concerns are beginning to abate, the possibility of moving is becoming realistic. As these homeowners begin to move forward with their plans, we could expect to see additional homes added to the existing depleted inventory.
Home Buyer Concerns
The popular question, "Are we in a housing bubble?" is a very realistic question to ask. Many experts are weighing in on this question and very smart people on both sides of the topic have excellent points. One point nearly all the experts agree on is...Home prices of today are a reflection of low home inventory relative to demand, combined with extremely low interest rates. If one or more of these factors shift quickly, we could expect to see an impact in the number of homes selling, followed by price changes. Whether the changes are positive or negative relative to a person's perspective is difficult for anyone to predict. However, if any shift experienced is gradual, the market could have the needed time to adjust and prices could maintain at a stable, slower, and steady growth pattern.
Below are a collection of slides that correlate with many of the topics discussed in this mid-year review. Please feel free to contact our office with any additional questions you may have. 530-222-3800
Learn more about Josh Barkers 5 proven steps to selling your home by visiting reddinghomes.com/selling-your-home/

Learn more about Josh Barker's proven ideal investment formula by visiting reddinghomes.com/buying-home/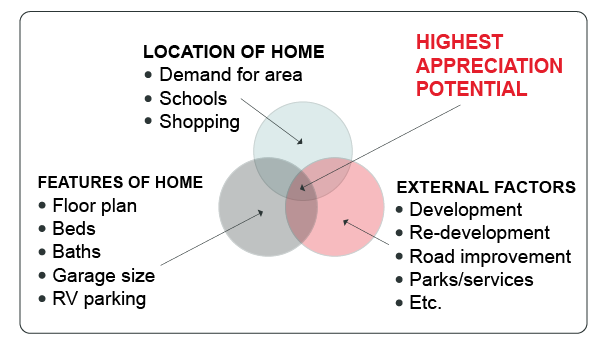 Check the average value for your home instantly by visiting reddinghomes.com/home-value