Shasta County Market Update - October 2021
Posted by Josh Barker on Tuesday, October 5, 2021 at 12:11 PM
By Josh Barker / October 5, 2021
Comment
Click Here to watch Josh's video blog for the month of October.
From the Desk Of Josh Barker
The local real estate market has experienced noticeable changes in supply and demand in the past 3 months. In this month's market update, we will share some of the hottest topics trending now in our local real estate market. If you have any additional questions please feel free to contact us at any time at our office at 530-222-3800.
MARKET UPDATE FOR October 2021
Active Home Inventory Is Growing
Active home inventory has grown by nearly 30% over the past 6 months. Starting at a low of 463 total dwellings for sale in March, and finishing September with a standing inventory of 656. The increase in home inventory has been a welcomed change for many home buyers. Although, the recent increase in home inventory has contributed to a slightly higher average days on the market to get a home sold for sellers.
Home Sales Have Decreased
Home sales have decreased by over 25% over the past 3 months, with a peak of 367 closings in June and finishing at a low of 290 closings in September. The reduction in home sales was anticipated and largely due to the market's transition from a pandemic related market to a more balanced market. During the early stages of the pandemic many additional home buyers entered the local market due to migration pattern shifts, work from home options, and second home purchases. This large disruption has cooled recently and has resulted in lower overall buyer demand.
California Eviction Moratorium Is Ending...Here Is What To Know
As of September 30th 2021 the eviction moratorium in the state of California has expired. However, there are some remaining protections in place for those that qualify to learn more click here. The end of the eviction moratorium will bring some relief to landlords that have desired to liquidate but weren't legally able to do so. In the coming months we could expect to see some of these rental properties reach the resale market and could provide additional options for home buyers.
Rental Market Continues To Remain Tight
The local rental market has continued to remain tight with limited options available for tenants. The trend does not appear to be slowing and has had an impact on housing affordability in recent years. Renting versus owning is a complicated decision and certainly is not a one case fits all scenario. However, thoughtful consideration to all the options available may be a good first step. Owning a home can limit options, but it can also provide some protection against housing inflation that is inherent to renting. To learn more about purchasing a home, please visit our site click here.
Home Affordability
Over the past year we have heard a lot of discussion around housing affordability. Many experts have very good points on both sides of the discussion. One point that most of the experts agree on is that housing affordability today is still lower than historical norms. Historically the national percentage of income allocated towards housing was 21% compared to the current percentage of 17.1%. However, It is hard to ignore the fact that abnormally low interest rates have contributed to housing affordability in the recent year.
New Construction
Residential Construction is on pace for one of its best years since 2006. The recent fall in lumber prices has been a welcomed change for home builders and are expected to fall even more in the coming months. However, skilled labor, home appliances and other building materials are in short supply creating challenges for home builders.
Home Price Expectations
Home price expectations are extremely difficult to predict in the current environment. However, there are two sides of the equation to consider. First, there are the tailwinds that can cause the market to appreciate. For example...lowering interest rates, migration pattern shifts, family formation, population growth, inflation, wage growth, cost of construction, and limits on supply relative to demand. Next, are the headwinds that can put downward pressure on home prices. For example...Availability of financing, the type of loan products available and rising interest rates. It is how the tailwinds and headwinds reconcile that determines future home prices. If the tailwinds are stronger than the headwinds prices could rise. If the headwinds are stronger than the tailwinds prices can go down. Most experts agree that rising interest rates will be the largest headwind the housing market will face in the coming years.
Below are a collection of slides that correlate with many of the topics discussed in this mid-year review. Please feel free to contact our office with any additional questions you may have. 530-222-3800
Learn more about Josh Barkers 5 proven steps to selling your home by visiting reddinghomes.com/selling-your-home/

Learn more about Josh Barker's proven ideal investment formula by visiting reddinghomes.com/buying-home/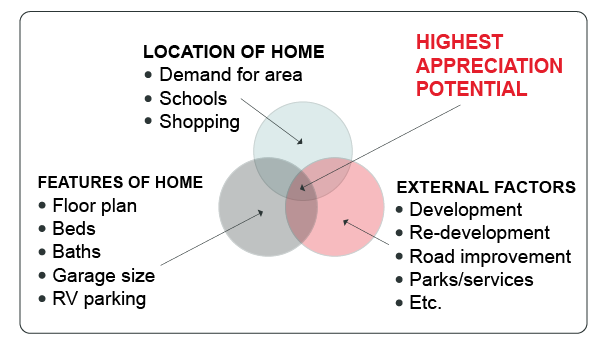 Check the average value for your home instantly by visiting reddinghomes.com/home-value