Massive Exposure
Exposing your home to the largest number of qualified buyers gets you the best possible price for your home.
Building on the principle of standing out, Massive Exposure seeks to represent the differences your home offers to the largest possible pool of qualified buyers in your market area.
The traditional marketing strategy employed in today's market falls woefully short of getting your home the exposure you need to attract the largest number of qualified buyers. The largest number of qualified buyers looking at your home will get you the right offer for the highest price.

One reason that the traditional strategy is still being used today is because of the limited financial resources of the average real estate agent.
However, we allocate a significant portion of our income to running market research-proven marketing. Since we sell hundreds of homes, this means we have a significantly larger amount of money to allocate towards getting your home the exposure that it needs to get you top dollar.
Not only do we have more resources to invest in getting your home maximum exposure, we also have more knowledge of where to market your home to get you the exposure you need.
What we know:
That 90% of buyers look for a home on the Internet where more than 900 million websites are accessible.
How to tap into the top 5 real estate websites of Realtor.com, Yahoo! Real Estate, Homes.com, Trulia and Zillow to get the most amount of visitors to our site to find your home.
That professional photography needs to be used when marketing your home because the first showing of your home will be online.
Professional copy-writing strategies must hit the hot buttons that make buyers want to see your home.
The best ways to target buyers based on their lifestyle, occupation, family, school and safety/ security needs.
How to track all of the leads and prospects we get for your home and then report the information to you in a useful, structured and meaningful manner.
Leading Edge Internet Technology
Problem: The majority of U.S. households now have Internet access, and a great number of websites offer virtually unlimited real estate listings. As a result, today's buyers rely heavily on the Internet as their primary source of information and data about properties for sale. With thousands of real estate sites now competing for attention, very few agents have the time, tools, or knowledge to properly utilize the Internet as a sales tool.
Solution: We have developed partnerships with the best, most effective websites, each designed to capture a unique sector of the home-buying public and push them to our listings.
Seller's Benefits:
ReddingHomes.com has listings, market data, and related information along with numerous free reports designed to entice people to identify themselves as potential buyers for our listings.
Your home is exposed to the world on 100s of different websites.
High quality pictures and professional descriptions capture buyers' attention.
Buyer's Benefits:
Our websites are recognized as extremely valuable resources for the free information buyers crave.
These sites allow buyers to circumvent dealing directly with agents while still getting their information.
Print Advertising & 24 Hour Hotline / Texting Feature
Advertising
Problem: While brochures are a great way to attract "drive by" buyers, there is another huge audience of buyers who don't drive by homes, and we must get our listing in front of them as well. Many of them can be reached effectively through print media ads in high-end magazines.
Solution: Highlighting homes in such publications is a proven way to take them all the way to "top of mind consciousness." Accordingly, we advertise in the Real Estate Book.
24 Hour Hotline & Texting Feature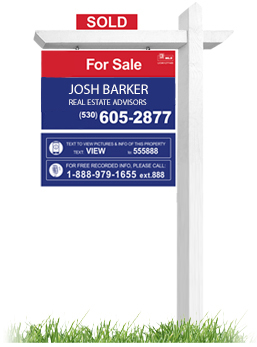 Problem: More than 52% of home buyers say they drive past a home if they like what they see online. 42% of buyers report driving through neighborhoods they'd like to live in when they're considering buying a home. Many times they're greeted with an empty brochure box or worse, no brochure box at all! Sellers can miss out on potential buyers for their home because the buyers couldn't get the information they wanted and needed at the time they drove by.
Solution: When we pull the trigger on a home's advertising program, we immediately kick into high gear by creating a recorded message that describes your property in detail. This recorded message is designed to increase the buyer's desire to see your home. When the buyer calls the 800#, the buyer's contact information is captured by our immediate response system and a buyer specialist on our team is ready to call the buyer back within 5 minutes. Our newest feature is the TEXT FEATURE which allows the buyer to text a code and receive access to photos of your home instantly.
Quality Lead Conversion
Convert buyer leads as quickly as possible and turn them into legitimate buyer opportunities.
Buyers have a tremendous amount of access to information about properties in which they are interested...at the click of a mouse button. Furthermore, they are very finicky and want as much information as possible in the shortest amount of time. A recent survey noted that Agents have about 15 minutes to respond to a buyer inquiry. Failing to do so would make the agent 21 times less likely to get the chance to do business with the potential buyer. We know this and actually have Immediate Response Systems in place to get in touch with buyer prospects within as little as 60 seconds (which is significantly shorter than the industry average of 16 hours). We know that brand loyalty in real estate is among the lowest of all industries. Therefore, we equip ourselves with the best buyer lead conversion, retention programs, technology, and strategies that the real estate industry has to offer. This effort results in your home selling more quickly to a qualified buyer, than it would with virtually any other agent in your marketplace.
Here is our system for responding to and converting buyer leads:
Immediate Response Systems that offer a live response in 5 minutes or less, 16 hours per day, 7 days per week...providing a connect rate that is 106x that offered by the average agent.
A Professionally Trained Sales Team that is committed and held accountable to responding to buyer inquiries.
Lead Follow Up Systems that have placement on Google, Yahoo and Bing to get the largest amount of buyer lead traffic handled the most efficiently.
A Buyer Loyalty Program. More than 40% of the buyer business that comes into our office is from past clients and sphere of influence.
A Coming Soon Listing Program that gets buyers to seek out your listing and want access to your home while you're preparing it for sale.
Seller Benefits
Our lead response and conversion program brings masses of qualified buyers into our family of clients.
We have expert lead coordinators who are in constant contact with active buyers to show them the listings that match their criteria.
This service builds buyer loyalty, giving us a strong number of serious buyers to bring through your home.
<< Back to Josh Barker's 5 Proven Steps To Getting The Most Money For Your Home