Proven Marketing Strategies

Here's just a few of the ways we ensure your home stands out from the rest and sells FAST!
To review the full Marketing Plan in detail visit
SkyCam
We are always looking for new and exciting marketing tools to ensure we stay ahead of the curve. One such tool we utilize is aerial HD video with SkyCam. When a robust photo gallery and mass marketing isn't enough, the SkyCam is sure to fill the void and catch an eye.
3D Showcase
We are proud to introduce our exclusive marketing product 3D Showcase. Homebuyers will create an immediate, lasting emotional connection to your property because they can experience it as if they were really there. Generate momentum like you wouldn't believe before the first open house with a space-age tool that will captivate buyers.
Expert Staging Advice
We will consult with you to determine what, if anything needs improvement in your home to make it show the best while on the market. Market research shows that staged homes sell in as little as 30 days and for up to 3-6% more than homes not staged. (Staging is optional but recommended in some cases.)

Virtual Home Staging
Virtual Staging is most commonly used for vacant houses. We will have our professional photographer take pictures of each room in the house. We then take these beautiful pictures and re-create them to include stylish home furniture pieces, eye-catching area rugs, and other art and decorative items. This "Make Over" helps home buyers imagine the potential of the vacant property as their future home. If you have looked at homes before then you know how hard it can be to imagine yourself in any given home. This is where virtual home staging can really be a major benefit.

Professional Photography
With 90% of home buyers starting their home search on the internet, It has become more important than ever to ensure your home is professionally photographed. We utilize the latest technology and techniques to ensure your home looks amazing to all potential home buyers.

Geo-Targeting / Geo-Marketing
Utilizing Facebook, Google, and Bing... We target market local and out-of-town buyers for your home by determining the geo-location of a website visitor. In addition, we deliver relevant content to the visitor based on his or her location, such as state, city, zip code, organization, IP address, ISP or other criteria. This cutting edge method of marketing allows us to expose your home to a targeted group of potential home buyers.

Professional Flyers
Utilizing professional marketing pieces that people actually like to look at! To ensure maximum exposure these ads are distributed throughout every relevant real estate marketing avenue.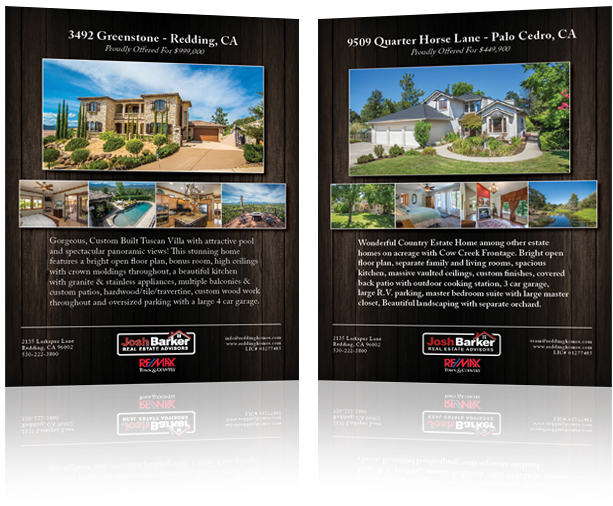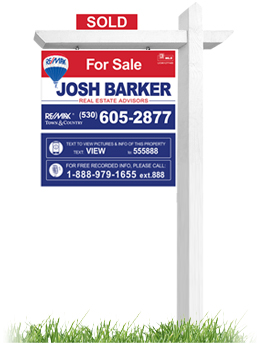 Real Estate Signs with Call Capture and Texting Features
No home marketing strategy would be complete without the traditional "For Sale" sign. Of course, we don't stop there…on top of the real estate sign is a 1-800 number which provides detailed information about your home 24 hours a day. When a buyer calls the number, the caller hears a professionally recorded message. When the call takes place, our office captures the caller's name and phone number. This call capture feature gives our sales team the opportunity to follow up and set an appointment.
Since many homebuyers prefer the convenience of Texting, our team has designed a system that offers instant access to the professional photos of your home and other detailed information.
Print Advertising in the Local Real Estate Magazine
Print advertising is still being utilized by many people looking for new homes. To take advantage of this we have secured the front inside 2 pages of the local real estate magazine. This guarantees that your home is seen before anyone else. This magazine has a wide distribution covering all of Shasta, and Tehama counties, In addition, the magazine is national and any buyer can access a copy for free anywhere in the country.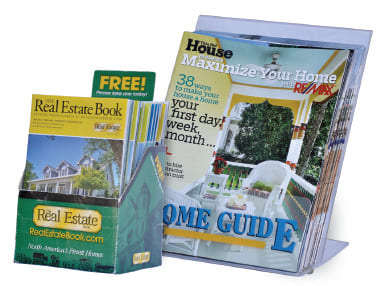 Open Houses
Open houses are a great tool for locating a buyer for your home. We employ a guerrilla-style open house strategy which includes massive social marketing prior to the open house, a robust networking strategy to ensure agents know about the open house, internet marketing of the open house and of course LOTS of real estate signs.

Precision Marketing Solutions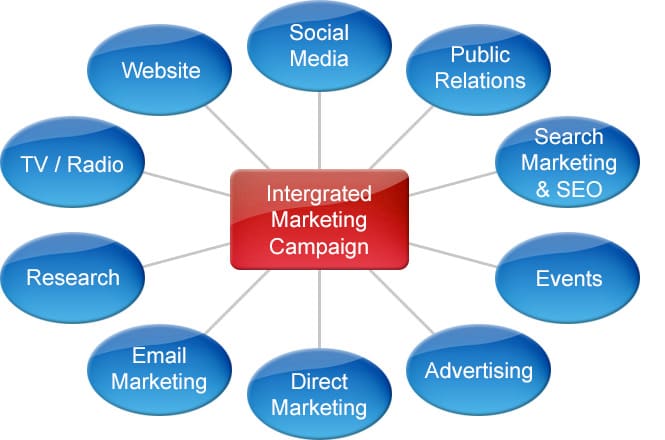 We utilize a very sophisticated set of marketing databases and management systems that have been proven to pinpoint potential buyers for homes that meet your specific criteria. As a result, our time is only spent prospecting the most relevant leads. This kind of precision marketing is the pinnacle of real estate marketing solutions.
Learn More About Josh Barker
Josh Barker lists and sells more homes than any other agent in the Redding, California market with well over 400 homes sold in the past 12 months. Josh has been ranked in the top 5 of all agents in the RE/MAX network for the USA, and is ranked in the top 1% of all agents in the United States. What makes Josh different than other agents is his systematic approach to delivering value and service to clients.
How Was Josh Barker's Home Selling System Created?
We have spent more than 15 years researching and developing systems that are proven to get positive results. We fly all over the country, meeting with other top real estate agents, looking for the newest and most innovative ways to get the results that sellers want. The best ideas for selling homes have been implemented in our marketing plan and have resulted in more than 2,000 homes sold.
We value:
Generating the highest price possible for the seller
Getting the results sellers want, in the shortest amount of time
Providing a selling experience that is as smooth and efficient as possible
To review the full Marketing Plan in detail visit